FD™ SPROUT POWDERS are ideal for adding an extra boost of nutrition to your daily diet. We offer an extensive variety and synergistic mix of organic sprouts that you simply cannot find anywhere else.
Timely harvesting and superior quality is the magic and force behind our potent sprout powders. It is in this early stage that plants are the most nutrient dense, enzymatically active and bioavailable.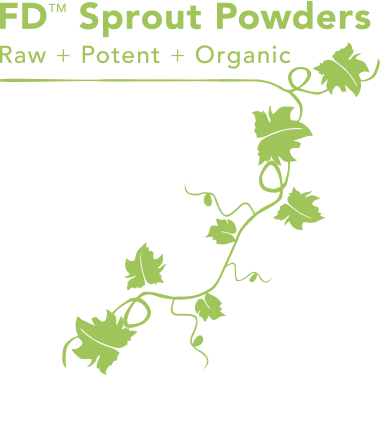 Our unique process starts with the finest, certified organic, non-GMO seeds, which are activated by sprouting in mineral-rich water. After this crucial stage, a very special freeze drying process instantly locks in essential nutrients and enzymes, while simultaneously extending shelf-life.
Eat them straight.
Sprinkle on salads.
Blend into smoothies.

Freshly Freeze Dried Powders of Broccoli Sprouts and Kale Sprouts°
°Raw, Vegan, Organic, Gluten Free, Non-GMO, Kosher
Freshly Freeze Dried Powders of Red Clover Sprouts and Daikon Radish Sprouts°
°Raw, Vegan, Organic, Gluten Free, Non-GMO, Kosher
Freshly Freeze Dried Powders of Chia Sprouts, Flax Sprouts°, Pumpkin Sprouts° and Sesame Sprouts°
°Raw, Vegan, Organic, Gluten Free, Non-GMO, Kosher